Coronary Interventions have evolved over time
Know about the latest technologies
There are several types of coronary stents and depending on the patient's specific needs the doctor may choose to place a bare-metal or a drug-eluting stent. A drug-eluting stent, is stent with a drug added, to help reduce the chance of the artery being blocked again. This drug is released from the stent over the period, re-blockage is most likely to occur. The function of the polymer on the stent is to control the elution of the drug to the artery.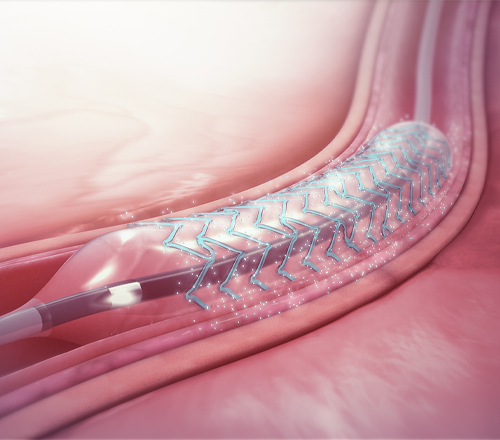 Once the drug is fully eluted in the artery, the polymer does not have a role to play. With new advancements in stent technology, bioabsorbable polymer stents are now available in which the stent has a drug and a bio absorbable polymer coating. In the newer generation bioabsorbable polymer stents, the polymer and drug coating are fully absorbed by the body shortly after the drug has been fully released. This promotes better healing by eliminating long-term polymer exposure.
Disclaimer: The information presented here by Boston Scientific is for educational purposes only and does not recommend self-management of health issues. The information should not be treated as comprehensive and does not intend to provide diagnosis, treatment or any medical advice. Individual symptoms, situations, circumstances and results may vary. The information should not be used as a substitute for talking with your doctor. Please consult with a registered doctor regarding your condition and medical or health related diagnosis or treatment options. Any decision taken based on the information provided herein is not the responsibility of the company or the website.